Root Canal Therapy to Treat Severe Decay
Dr. Susana Moncada provides root canal therapy at Windermere Dental Group in Orlando, FL, to address decay that has spread deep within the tooth. She will also advise you on the best restorative method for you after the infection has been treated.
Root canal therapy is a necessary procedure to treat an infected tooth. If left untreated, a patient could lose the tooth entirely, which might then require more costly and extensive treatment. If you are concerned that you may have an infected tooth, please contact us today to schedule a consultation with Dr. Moncada and discuss your treatment options.
Candidates for Root Canal Therapy
Patients experiencing tooth and jaw pain, swelling of the gums, or discoloration may have an infected tooth that requires root canal therapy. An infected tooth may be caused by a deep-set cavity or an infection in the root canal itself. If the infection has been allowed to proliferate without treatment, the tooth may need to be extracted.
Root Canal Procedure
During an initial consultation with Dr. Moncada, she will thoroughly examine you to determine if there is an infection, how severe it is, and if a root canal is a viable treatment option. She may also take x-rays to see how close the infection is to the nerve in your tooth's pulp chamber. Typically when a cavity is present, the pulp has already become infected. Once it is determined that root canal therapy is the best treatment option, Dr. Moncada will clean out the damaged parts of your tooth.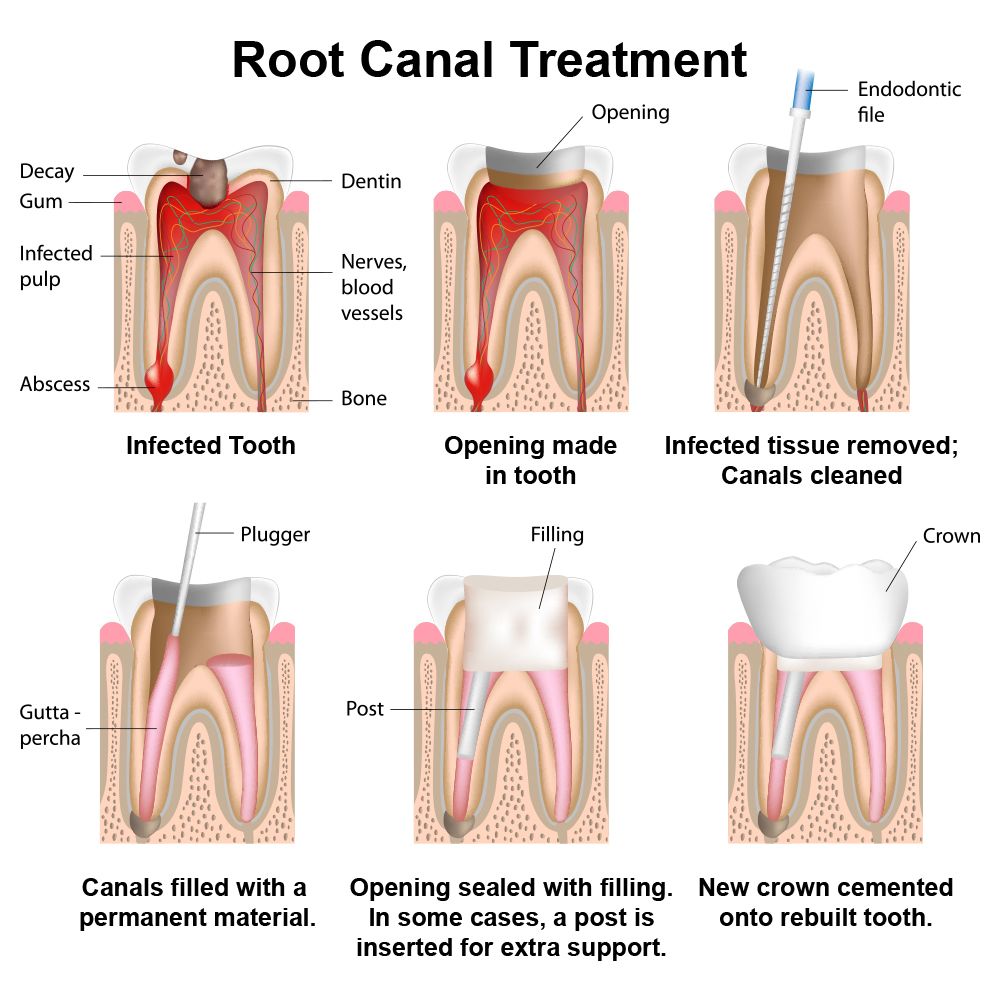 You will receive a local anesthetic to reduce pain and discomfort during the procedure. When Dr. Moncada reaches the pulp chamber, she will inject additional anesthetic into the nerve to prevent any further pain. The tissue from the pulp chamber is removed along with any nerve tissue. Dr. Moncada will then disinfect the inner chambers of the tooth before filling it with gutta-percha, a rubber-like dental material. She will seal the tooth with a temporary filling or crown and provide you with post-operative instructions to help ensure a healthy recovery.
At your next visit, Dr. Moncada will check for any complications or signs of infection. She will remove the temporary filling or crown and prepare your tooth for your permanent restoration. Your dental crown or bridge may be fabricated in our office using CEREC® technology, or we may send your impressions to a partnering dental laboratory, depending on your unique situation.
Benefits of Root Canal Therapy
Root canal therapy can allow patients to keep their tooth and avoid an extraction. It can also prevent further pain and additional decay or damage to the affected tooth. After root canal therapy, you will be able to speak, eat, and drink as you normally would, free from pain or discomfort.
Schedule Your Consultation
If you are experiencing tooth pain or other signs of infection, it is important that you schedule an appointment as soon as possible to eliminate your pain and save your tooth. During your visit, Dr. Moncada can answer any questions you have about your symptoms, the treatment process, or your recovery. Contact us today to schedule your consultation with Dr. Moncada.